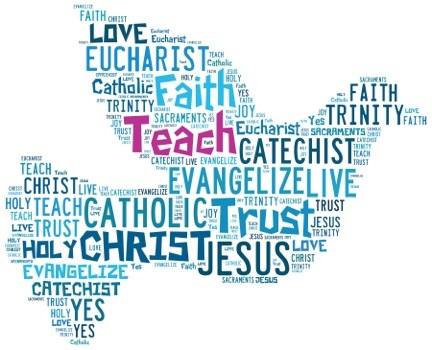 The Right of Christian Initiation for Adults is a process developed by the Catholic Church for prospective converts to Catholicism who are above the age of infant baptism. Candidates are gradually introduced to aspects of Catholic beliefs and practices.
Have you ever considered converting to Catholicism?  Do you want to know more about our faith tradition? Do you wonder why we make the sign of the cross; why we honor Mary, the Mother of God; what are the parts of the mass and what do they mean?  If you are interested, please contact either Fr. Jim (jimg301@juno.com)(434 288-7030);  Bob Burke: bobsandycreek@gmail.com (434-851-1055) or Bonnie Toth: bonnie3871@gmail.com (434-660-3786).
We are all ready and willing to answer your questions about the Catholic faith as well as learn from you about your faith journey.   You may find we have lots in common - we are all "The Body of Christ."
Peace!!